This technique utilises the power of the Wood Release to forcibly suppress a tailed beast's chakra. To invoke this technique, it is necessary for the user or a jinchūriki to be in the possession of the Crystal Gem (結晶石, kesshōseki) that responds to the First Hokage's chakra. The user produces the "sit" (座, suwaru) kanji in his palm, and by touching the tailed beast, or its host, with their hand, the user suppresses the chakra inside an area lined with ten pillars.[2]
When Hashirama used it on a tailed beast directly, rather than a jinchūriki, he circumvented the use of the pillars and channelled the tailed beast control through his 
Wood Release: Wood Human Technique
.
[3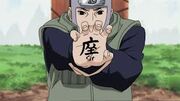 ]